Are you looking to learn how to install Google Analytics in WordPress? You can learn how to do it in this tutorial.
Without Google Analytics, you won't know what's happening with your website. Google Analytics helps you learn how about traffic, conversions, interactions, the flow of the visitors on your webpages, etc.
There's more to Google Analytics which you can learn later on, but first, we need to learn how to install Google Analytics on your WordPress Website.
In this tutorial, I'll walk you through the steps you need to take to Install Google Analytics on your WordPress website.
Step 1 – Create A Google Account.
This step is crucial because you will need to use your google account as it is mandatory.
If you wish you can connect your website's analytics to your current google account that's fine, but if you are planning to create a new google account for your website you can do so.
Click this link which will teach you how to create your google account.
Once you've created a google account, please verify it. This will ensure that we don't face any issues while creating our Google Analytics account.
We'll now move on to the next step once you're done.
Step 2 – Sign up with Google Analytics.
Head over to Google Analytics SignUp Page.
Now you will be asked to sign in with an email account. You can sign in with the google account you just created or your existing account. This is where you'll be asked for your email address and password.
Once you've entered your information, you'll be asked to sign up on the Google Analytics Page. Since your Google Analytics account hasn't been created yet, we can click on the signup button and create an account.
Then, on the next screen, you will be asked for some information about your website or blog. Enter your Account Name, Website Name, website address (URL), Industry Category. Choose the most appropriate option and click on the Get Tracking ID button. You will be presented with Google Analytics terms and service which you must agree to, so click on 'I Agree' button.
Now that your account is created, you will need to get access to your Tracking Code and Your Google Analytics ID.
You can copy the Tracking ID and the Analytics Code.
It can be found under the Tracking info section.
Now we are moving over to the next step.
Step 3- Install Google Analytics Plugin.
There are many ways you can install your google tracking code or plugin your Google Tracking ID. This is the one I would recommend.
Now, this method you are required to grab the Monster Insights Plugin so that you can install Google Analytics on your WordPress Website.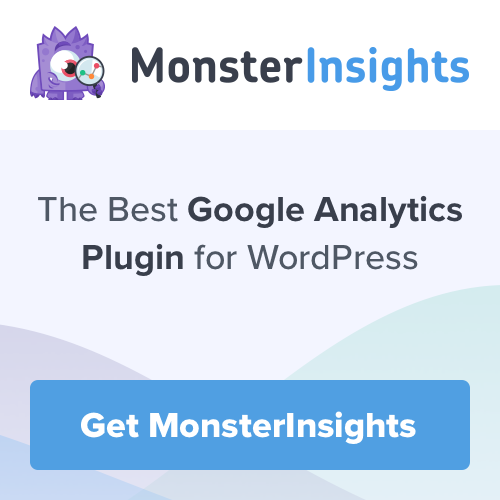 Now download the plugin to your computer.
Now you need to install the plugin on to your WordPress Website.
In order to install this plugin, you need to head over to Plugins on your WordPress Dashboard.
Click on Plugins > Add New. This will take you to a page where you can upload this plugin that you've downloaded.
Choose the plugin from your computer and click install. Once you've installed it, you need to click on "Activate" so that your plugin is activated.
Once the plugin is activated, you will be able to see Insights on the left pane of your WordPress Dashboard.
Now you need to set up Monster Insights on your website. It's pretty easy just bear with me. The only reason we need to install monster insights is that you will easily be able to track all the activities of your WordPress website with the Google Analytics integrated.
Therefore you will not have to log in to your Google Analytics account every time. You can track everything from the backend of your WordPress Website itself.
As soon as you have installed the Monster Insights Plugin, you'll be asked to create your account and set it up.
You can choose the right option regarding your website. If it's a blog choose that or if it's an eCommerce store, choose that.
This is what you need to do in the next step. Click the Connect Monster Insights button to connect it to your Website.
You will be asked to link it to the google account where you have created your Google Analytics Account. You need to link that account by entering your email address and password.
Then you'll be headed to another step. This is where you will be asked to enter information to set up recommended settings. You can follow along by looking at the image below.
Next at the bottom click Save and Continue.
It will ask for the recommended addons to install. It's totally up to you to install them if you like. If not, you can totally skip them over.
Next, you will be directed to the final step where you can click on Finish set up and exit wizard.
Now that you've set it up you will start to see all the insights on your WordPress website itself. Every single activity of your visitor is tracked so you can use them and study how you can improve your website visitor activity and conversions.
Conclusion.
I hope this tutorial was helpful to you. By following this tutorial you can install Google Analytics In WordPress in 3 simple steps.
All you need to do is to grab the Monster Insights plugin so that you will be able to track all the information that is tracked on Google Analytics and start reflecting it on your WordPress dashboard which has the monster insights section.
Click here to grab your Monster Insights Plugin.
I hope this tutorial was easy to follow and if you have any questions, please do reach out or leave them in the comments below.